PRIDE MCC & HATCH-style
All current & former HATCHlings are invited to walk with us at the Pride Parade to celebrate HATCH's 25th Anniversary!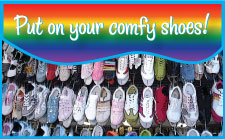 Around the world, people are celebrating what it means to be family throughout the month of June. We hope you will stop by our booth at the Pride Festival on Saturday, June 23, where Megan and our volunteers will be taking Pledge-Your-Pride photos again this year. In the evening, we'll all come together and celebrate the 25th Anniversary of HATCH with a reunion of current and former HATCHlings marching in the parade. Be sure to wave and wish Houston's GLBT youth program a Happy Birthday!