327 – Marion E. Coleman Executive Room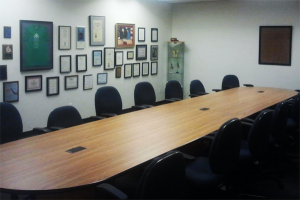 This space on the third floor is specifically suited for board, business and committee meetings that do not require flexible seating arrangements.  Features an oblong executive table with seating for 14 plus additional galley seating along the room border.
LGBTQ Rate: $20 per hour
Ally/Friend Rate: $30 per hour
Size: 19′ x 26′ | Capacity: 32
Please note: these rooms are rented only when there are no first floor alternatives (rooms 111 or 114) available during the time and date of your request. If you choose one of these rooms as the preferred space on the reservation request form, we reserve the right to place you in room 111 or 114 first, if available.