"Social distancing." You've probably heard and seen it everywhere as health experts urge Americans to observe it in an effort… Read More »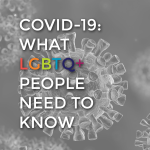 The National LGBT Cancer Network is aware that LGBTQ+ people are likely worried about the potential impact of Coronavirus 2019 on their health. People at particular risk should talk to their health providers about their options for protecting themselves from infection.
The Montrose Center signed an open letter authored by the National LGBT Cancer network outlining the added risks of COVID-19 to the LGBTQ+ individuals.